Ceiling Basketball & Wall Mounted Main Basketball Goals.
As part of our series of in depth focus on Dept of Education sports equipment products, in this blog post we are looking at indoor Basketball Units.
Basketball Match Goals PE/30.
Ceiling Mounted Basketball Unit (Department of Education Specification)
Electrically Operated with Brake Cable Safety Device. To European Standard EN 1270 Electric motor complete with Enclosed Limit Switches at both extremities of travel. Structural steelwork in roof (provided by PE Equipment Supplier)
Framework and Playing Positions.
Usually 80 mm x 40 mm box section or equal approved but if span is greater than 5m a composite beam made from 2 No. 40 mm x 40 mm rails separated by 200 mm to 300 mm is required for adequate rigidity (or equal approved by the design team).
When the structure is in the playing positions, the horizontal and vertical movements shall be in accordance with the FIBA regulations. Hanging steel frames made from 40 mm x 40 mm x 2 mm box section, a single arm 100 mm round tube, telescopic tubing or equal approved. If the drop length is greater than 4 m, a composite beam is required as above. The requirement to comply with I.S. EN 1270 will determine the design criteria and in particular in relation to the horizontal and vertical movement of the frame when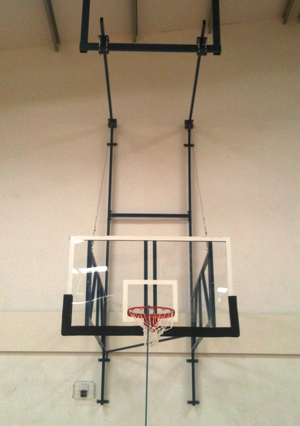 subjected to the playing loads. This steelwork can be installed after the handing over of the building to the client as long as access to the roof girders is not made impossible by gable walls or false ceilings or other structure or fitting. In particular, the positioning of radiant panels must be carefully selected to suit the Basketball Goal design. This work should be co-ordinated between the Design Team, the Main Contractor and PE Equipment Supplier. The PE Supplier should consult the roof drawings before submitting tenders.
Backboard
Backboard: 1800 mm x 1050 mm made from 12 mm Perspex. Must include a backing frame to transfer the load from the ring back through the board to prevent the Perspex cracking. Must include a spring loaded ring, breakaway load at 105 kg I.S. EN 1270 Standard, which allows the ring to deflect approximately 30 degrees and return to normal when the load is removed.
Safety padding, screw on type, to be fitted to the base of the board and up the sides by 300 mm.
Brake Cable Safety Device.
This safety device is approved for the ceiling suspended goal and imposed by the Standard – I.S. EN 360. Cable Model for high ceilings. Automatic cable winding and unwinding. Braking at 200 mm to protect against impact in the event of goal cable system falling. Fastening by safety snap hook.
Electrical Services Required (provided by others):
Basketball
Motorised Ceiling Basketball goals at each end. The control Key Switches for these units will be in the Store room or the Instructors office and therefore all necessary wiring to be fitted to allow the units to be operated safely Provide 2 off 65 x 65 x 50 mm boxes and associated key operated switches, for connection to the motors provided by the PE equipment Supplier. The switch boxes
should be positioned so that it is possible to observe the operation of both basketball units from the switching position. Provide a four core plus earth cable from the above boxes to roof level for both ceiling mounted units. Each motor for the units has a rating typically not exceeding 250 W. The PE Equipment Supplier to supply a circuit diagram.
Other options.
Alternatively if the design of the hall does not allow Ceiling Basketball units we can provide the PE29 Wall Mount Basketball Goal. Made to meet NL standards the wall unit can be made to fold sideways with a locking system or stored vertically by means of a manual or electrically operated winch. These units start from €1,800 per pair.
Contact Fitness Functions.
If you need us to call out to your Sports Hall or require additional, basketball sets, basketball rings or backboard information please do not hesitate to contact us.